Teacher Details
The following is our teacher's qualification.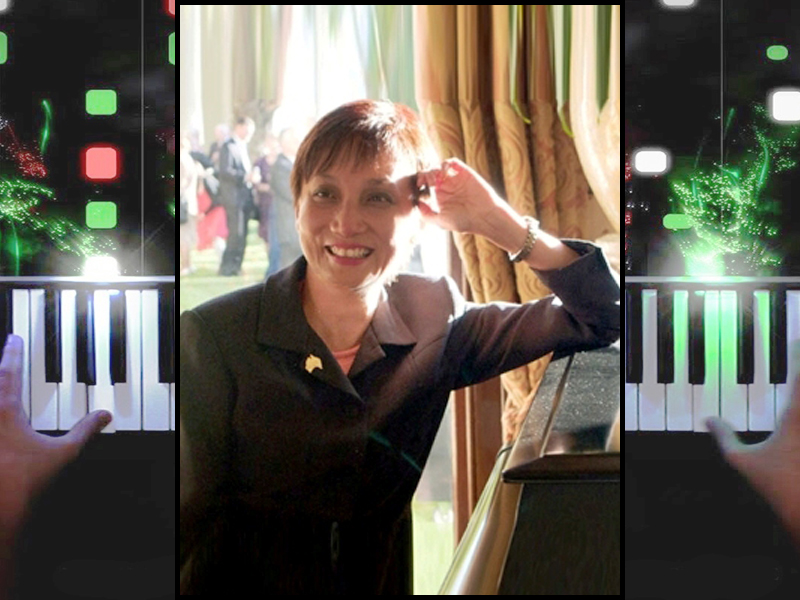 Dr Yvonne Ho AM
AAGM, MB, BS (University of Melbourne), FRANZCR, FAANMS, GAICD.
Musician, Entertainer, Scholar, Educator, Medical Doctor, Radiologist, Nuclear Medicine Specialist
2015 Member of the Order of Australia
2014 Winner of the Australia Awards
2013 Inductee of the Victorian Honour Roll of Women
Australia Day Ambassador for the Victorian Government
---
I have been a music educator for many years. I became a musician, then a medical specialist, and have worked extensively in both fields, both locally and internationally. I am also an established piano accompanist.
I studied under internationally acclaimed pianist and teacher, Deirdre Penicaut, and obtained my Diploma in Music Performance while I was still at school. As a teenager, whilst my friends sweated it out serving burgers at McDonald's, I gave piano lessons. At that time, I wasn't even old enough to drive and my mother chauffeured me from place to place so that I could teach.
In addition to my experience in private music tuition through the years, I have also taught music at Trinity College, Parkville, and at Rosewood Downs Music Academy (with Jill Adam from Johnny Young Talent School).
My second instrument is singing/voice and I was an alto in a prestigious 4-part singing group for many years. I am also a percussionist in the orchestra & played the drumkit in bands. When I was 10 years old, I was the side-drummer in an all-girls' marching band.
Energetic, friendly and nurturing, I believe that everyone can excel, given the right guidance and inspiration to realise their potential. There is no greater achievement and personal satisfaction than happy students and appreciative parents through the years.
More recently, I became deeply disappointed in the quality of music education that is widely available nowadays. Knowing that there is a great capacity for learning, recognising that music is pivotal to excellence in their other key areas of learning, such as language and mathematics, and spurred on by my track record formula for musical success, I was inspired to create change for the better in my community, for the benefit of as many as possible.
To this end, I established Charteris Music School which is committed to offer music education to families and individuals who care about high quality fun learning in a sociable environment. This is my gift to the future.
I am 'hands-on' in Charteris and lead by example. I continue to mentor, develop and coach our teachers to advocate the Charteris philosophy on music education, leadership and engagement.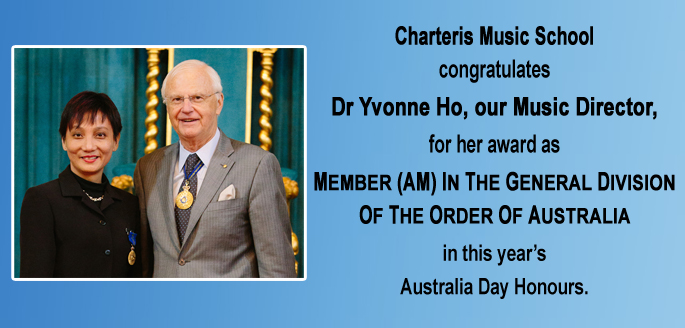 In 2015, I was awarded Member (AM) in the General Division of the Order of Australia, in 2014, the Australia Awards and in 2013, the Victorian Women's Honour Roll. I am an Australia Day Ambassador for the Victorian Government.
With more than 30 years experience, my in-depth experience in the industry has enabled Charteris Music School to develop into a well-recognised brand in music education.
---
My passion in music led to Charteris Music School's collaboration with the Melbourne Arts Centre and Ms Betty Amsden AO, to bring UK Artist, Luke Jerram's 'Play Me, I'm Yours - Street Pianos' to life.
'Play Me, I'm Yours' is a piano music and art event that has been touring internationally since 2008, reaching over 4 million people worldwide. To date, more than 1000 pianos have already been installed in 37 cities around the world, from New York to London. In Melbourne, more than 20 beautifully decorated pianos will be located in public spaces at the Arts Centre, the CBD and surrounds, and the public is invited to see, hear and play these pianos.
The students of Charteris Music School perform as part of my public address as Australia Day Ambassador and in community music festivals.
---
What Makes a Good Music Teacher?
A brilliant music performer does not necessarily make a brilliant music teacher. Apart from practical and music theory competencies and sound musical knowledge, a music teacher also needs to have special skills to work with children and adults. Many instrumental teachers merely follow the music exam syllabus; fun, enjoyment and love of music are not instilled as they are not part of the exam syllabus, making music lessons a chore. Others are plain inexperienced, with no understanding of what it takes to teach.
I believe a good teacher is a well-rounded musician, with real-life experience and the ability to relate to people of all ages. A background and interest in education and broad understanding of teaching methods (and I don't mean just how to play or teach an instrument) are essential. Cycles of analysis, design, development, implementation and evaluation are important in teaching. All students have different learning styles ∼ some are visual, some are auditory and others are tactile.
I am always mindful that students' lesson goals and parents' expectations may be different from mine. Good communication is therefore vital. At Charteris Music School, we specialise in helping individuals reach their music goals.
---
You Have Wide-Ranging, Illustrious Careers. What are Your Thoughts about Careers? And What Advice do You Have for our Next Generation?
Yes, I am both a music educator and medical specialist. It is true that both careers start with the letter 'm'. However, this is also where their similarities end! Having said that, music and medicine share many synergies. Whilst it is a challenging task to excel in both, they are both extremely rewarding careers. I am honoured and humbled to be recognised and included in the 2013 Victorian Women's Roll of Honour. As one of the few people with several high-achieving occupations in parallel, I believe career choice is one of the greatest challenges facing our next generation. As a sought-after public speaker, the following are some topics (and variations thereof) that I present. You may wish to consider me for your next function :
» From male-dominated Medicine to Parliament House.
» 'Que Sera Sera' Careers : "When I grow up, I want to be a ..."
» "If music lessons aren't making your kid the next Bernstein, they could be cultivating future Marie Curie & Galileo".
» Butcher, Baker and Candlestick-Maker - Careers of the Future?