Programs For Digital Piano Ensemble
The following are programs for digital piano ensemble.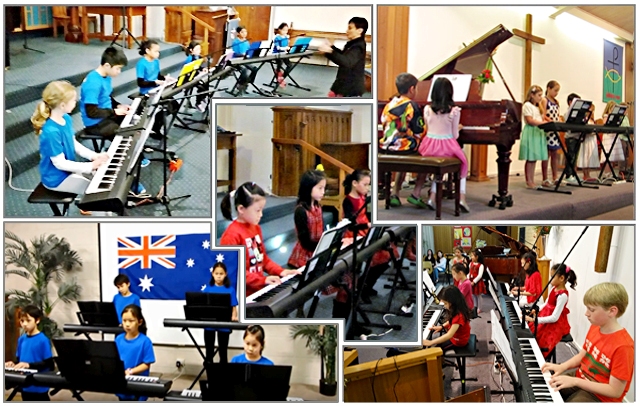 Digital Piano Ensemble-Orchestra Program
Ensemble classes give students the opportunity to create and enjoy music with other students their age and playing ability.
They work together to create a piece that sounds just like an orchestra. This gives the students a memorable experience by discovering that they are part of a whole to make music come alive. They are also motivated to practise because they want to keep up with their peers in the group.
Charteris Music School Advantages:
Our music curriculum actively encourages positive brain development and improved overall physiological well-being. Our unique advantage is only available at Charteris Music School because its Director is a medical specialist as well as a music educator. This is what differentiates us from other music schools in the country and, possibly, in the world.

Our programs are in smaller groups than found in traditional group music lessons. This results in greater personal attention to each student.

Some of the most enjoyable times in our lives are spent with friends. Group lessons combine the concepts of play and learning, making music education an enjoyable event in a sociable setting. This contrasts with individual lessons which are more isolated events.

Music programs at Charteris Music School are reasonably priced because we believe in the gift of music, and would like as many people as possible to enjoy the benefits of music.

In our ensemble piano lessons, we use electronic-pianos (and not non-weighted digital keyboards) in our classes. Skills learnt on a digital keyboard or synthesizer are less transferable to the standard acoustic piano. That is why we prefer the use of state-of-the-art portable electronic-pianos.

In our electronic-piano programs, students are taught to read notes in both the right and left hands. This contrasts with most digital keyboard group lessons, where chords (and not individual notes) are taught to the left hand. This means that keyboard skills developed in our electronic-piano courses are easily transferred to standard acoustic piano.

If your facility has enough individuals interested in our programs, we will come to you, for your convenience.
Looking for a program that is not on this page?
If so, please click on Contact Us to ask and find out more.